Stazi received the Gorsun Wireless Bluetooth Kids headphones for her 3rd birthday to solve a major problem. A few months prior she began using a Amazon Fire HD 8 Kids Edition tablet and it's been great to have something to entertain her and assist in her learning. I even talk about why I love the Amazon Fire HD Kids Edition tablet here, but there was a major issue… She figured out how to control the volume. Our living room became full blown, one toddler dance parties thanks to this.
The idea to get her first pair of headphones came about after weeks of listening to what felt like every theme song on Earth endless playing at max volume. Thankfully, Amazon provides a great variety because the reviews of kids headphones at local brick & mortar stores kept me from a hasty purchase. After a bit of research these Gorsun kids headphones came across the screen. The brand was unknown to me so I wasn't sure if they were a lemon or just a great deal waiting to be discovered.
I wanted to make sure that her headphones were durable, wireless (bluetooth) and had a preset volume limit. Of course, I also wanted them to be meant to fit a child's head. The Gorsun Wireless Kids headphones met all of our needs and the price/reviews sealed the deal. Fingers were crossed and I was hoping that this won't all end in disappointment.
Specs: What's In the Box?
I found the box quite nice. The packaging is simple, but provides you everything you need. In addition to the foldable HD quality headphones you get an audio cable that can be used if the battery dies, rubber ears that can be clipped to the top of the headphones, a short usb charging cable and storage bag. If you're giving these headphones as a gift a small greeting card is even included.
When fully charged the battery lasts for up to 12 hours, more than enough time to get us through the day. If you forget to charge the headphones you'll be happy to know that they can be fully charged in one hour. Another great feature if the 85db volume limit. At 85db you can still hear someone speaking to you nearby, so the sound is safe for younger ears. There is also a built-in HD mic.
Gorsun Kids Headphones, First Impressions
The color of these headphones is great. Seriously, this is one of the things I genuinely like about them. They are bright and I can easily spot them if Stazi decides to pull them off somewhere.
One of my original concerns was that the ear padding was going to be paper thin and tear quickly. Thankfully this was not the case and the ear muff/head padding seems to withstand use by a toddler without any issue. It is nice that this model has the buttons on the side so there is less of a chance that they can be accidentally pressed when putting the headphones on. While I like the rubber ears, the quickly distracted my toddler so I had to make them off. These might be something that we will re-add over time.
Turning the headphones on and controlling the volume is simple. Once the headphones are powered on all you needed to do is connect them to a device. Since these were for Stazi specifically I connected the bluetooth on her Fire HD tablet and moments later I was able to connect her tablet to her new headphones. This was much easier than I thought it would be.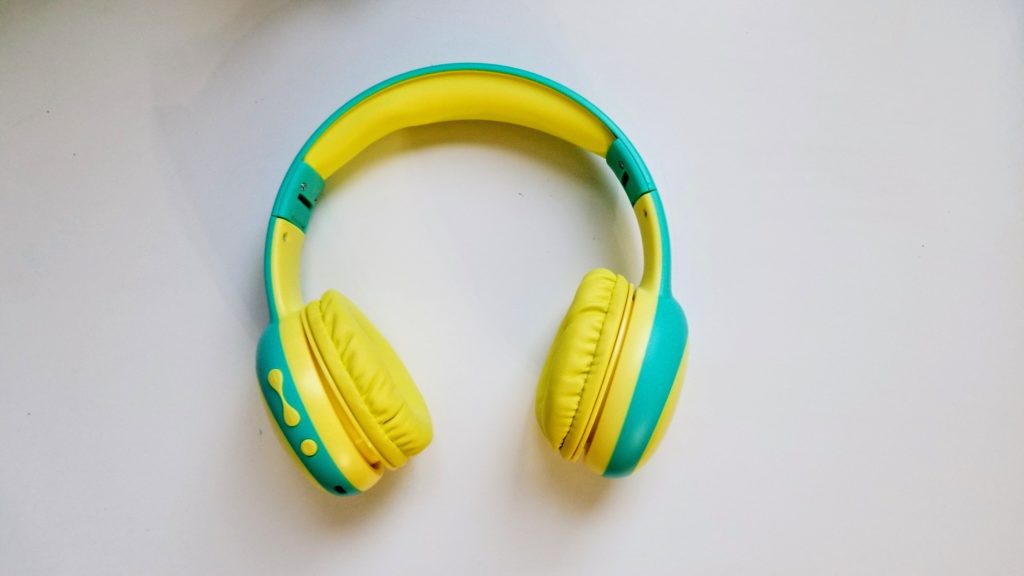 The headphones did arrive with enough charge to use them straight out of the box so we were able to use them immediately. They have been great so far. We haven't had any issues with connection, battery life or product quality.  She can also go up to 10 meters (33 feet) without losing connection to the headphones. This has not only made our home a little quieter, but she is now away from the screen more often because she can do other things while listening to…. I don't even know what to call it, background app music on endless repeat?? These headphones get a pass rating, green light and gold star in our book.  
There are a number of pricey, flashy headphones on the market, but if you're looking for a practical pair for your child then the Gorsun Kids Wireless headphones are a definite win in my book. They work well, they look nice and they're safe for children. If you have more than one child, consider buying them a pair as well. Each pair of these headphones comes with a 6-month worry free warranty so if they fail you can have them replaced. 
What's the most important feature you look for in headphones for your child?