YES, My Toddler Gets Screentime!
I absolutely do not regret buying my toddler an Amazon Fire HD Kids Edition tablet. I hemmed and hawed a bit because I was introducing my toddler to the often criticized 'screen time' and in the end I'm happy with that decision. After a bit of research I decided that the Amazon Fire HD 8 Kids Edition tablet. Not only are they great for little hands, adults can use them as well.
The newest Fire HD Kids Edition tablet (10) has a 10.1″ display, gets up to 12 hours of battery life and the padded Kid-Proof case comes with a built-in stand. The case options on the Fire HD 8 included a yellow case, which doesn't appear to be available when purchasing the Fire HD 10. You can choose between pink, blue and purple with the newer model.
*This post contains affiliate links, if you decide to make a purchase through these links we may receive compensation at no cost to you. FULL DISCLOSURE HERE.*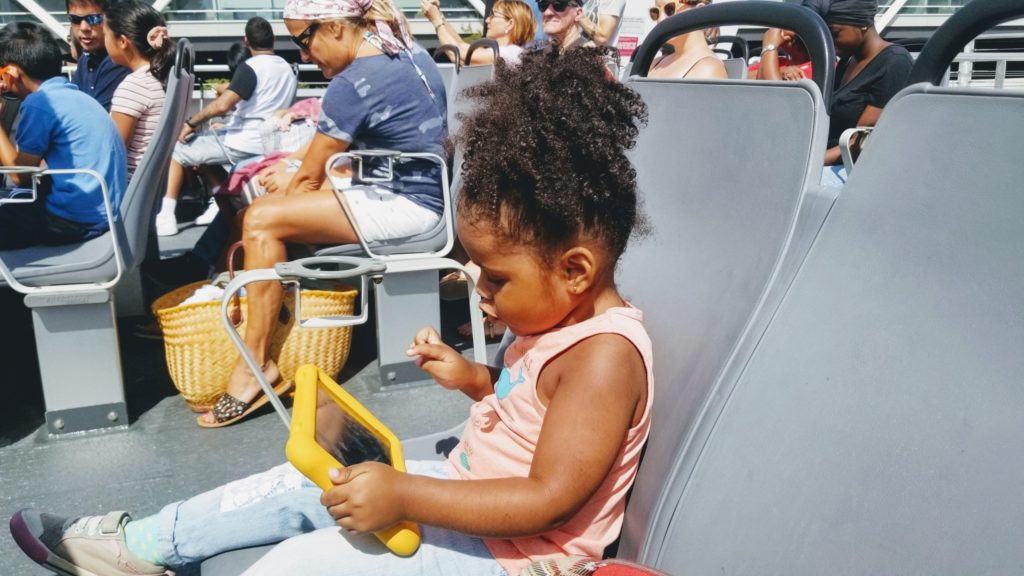 The Amazon Fire HD Kids Edition tablets comes with one year of FreeTime Unlimited. This service provides kids (approx. age 3-12) with over 20,000 books, Audible books, movies, tv shows, apps and games. Initially I wasn't sure which games and activities she would find interesting because we don't watch many cartoons. The tablet reinforces things that she is learning without her tablet and she recognizes things on the tablet that she sees in real life. 
I actually had to go into the Parent Dashboard so I could list a few of the apps that she uses regularly. I honestly don't know half of the names of the apps or characters when I glance at the screen. Elmo, Doc McStuffins, Peppa Pig and Dr. Panda are a few of the regulars, but she often changes videos and apps so I can't keep up with all of them. Stazi only realized that one of her backpacks featured Doc McStuffins because she is featured in apps and videos on her tablet.
Many of the apps she uses have an educational component and are introducing her to the English language since she was her first language. Elmo sings her ABCs, she counts with a variety of the apps and plays matching & creative games with Sago Mini. Many of the apps on FreeTime Unlimited reinforce concepts and things that she has learned. While the majority of the content is in English, there are thousands of options available in Spanish.
2. Two-Year Worry-free Warranty
I think this might have been the selling point that sealed the deal while I was researching tablets. For two years we don't need to worry about screen cracks, charging problems or even water damage. If you need to have your tablet replaced they will replace it without question at no additional charge.
It only took a few months before Stazi decided that she wanted to use her tablet in the bathtub. I'm not sure how she smuggled the tablet into the bathroom, but I was quickly handed a waterlogged tablet. The tablet and included case are not waterproof.
I wish I could say, "Long story short," but all I had to do was make a quick request for Amazon to call me, give the rep my info and 48 hours later we were back in business. They'll provide you a label to ship your old tablet back.
3. We Can Both Get Things Done
As I mentioned, there are thousands of ways to keep Stazi occupied thanks to Amazon FreeTime Unlimited. I can get work done as she puts together digital puzzles, setting up tea parties, playing counting games and so much more. On morning runs last summer I was able to push the stroller to and from her swim lessons while she had her tablet available to pass the time.
We live in New York City and when we commute using public transportation, it's much easier to get to our destination if Stazi has something to continually keep her attention. Carrying one tablet filled with digital activities is much easier than lugging around five books.
When Stazi wants to have an impromptu dance party or just wants to count for an hour straight, she has taught herself how to access the apps or videos that can get it done. She's always within eyeshot and we encountered a new dilemma  because she has also figured out how to control the volume on her table.
The only thing I was unhappy about was the inability to easily set a volume control. It took six months before I actually grew tired of listening to Elmo sing the alphabet and Mickey & Friends shout out, "Hotdog, hotdog, hot diggity dog!!"
For her third birthday Stazi received a pair of Gorsun volume control, bluetooth headphones and now I just hear recitations of activities, giggles and claps as she runs around the living room.
If you buy a tablet, do yourself a favor and invest in a pair of bluetooth headphones. We wrote a review on the Gorsun Bluetooth Kids Headsphones here.
If you already have an Android, iOS, Kindle or Fire tablet or mobile device you can also try out FreeTime Unlimited for one month. Click the image below to register.
If your kids have their own tablet, what was the main reason you purchased one for them?